Trending...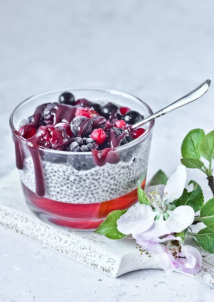 The fertility nutritionist published a comprehensive guide on her website that explains how chia seeds support reproductive health in women.
DENVER
-
ColoradoDesk
-- Sarah Jane Sandy, renowned fertility nutritionist and proud mama, has published another article in her "Superfoods for Fertility!" series. The post is titled "
Can You Eat Chia Seeds for Fertility?
" and contains everything you need to know about this nutrient-dense seed and how it can be used to boost reproductive health.
"Chia seeds are one of the best foods on earth for both pregnancy and the months leading up to conception," said Sarah. "They're chock full of vitamins, minerals, and fatty acids that provide the building blocks for fertility."
As a woman who has struggled with her own reproductive health, Sarah knows how much of getting pregnant is outside of our control. She also knows how important it is for women trying to conceive to optimize all the elements that are
in
their control, which starts with diet. And for those wondering what to eat to get pregnant, Sarah has shared her favorite chia seed recipe (
Raw Tapioca Pudding
!) in the guide.
More on Colorado Desk
"While this raw tapioca pudding is my favorite way to enjoy chia seeds, there's really no wrong way to eat them," Sarah said. "Since their taste is mild and pleasant, they complement virtually any dish, from granola to salad, while turning it into a nutritional powerhouse."
For readers who appreciate lots of stats and facts, the guide has plenty of science-backed data, too. Sarah explains what makes chia seeds so hearty, as well as how their nutritional content supports fertility, immunity, digestion, circulation, and overall health.
From start to finish, the entire guide is an informative piece written with compassion, warmth, and lightheartedness, which aligns with Sarah Jane Sandy's overall approach to her work as a fertility nutritionist. Adding chia seeds to your diet is an excellent idea for anyone, but it can be especially beneficial for those looking to increase their fertility.
More on Colorado DeskAbout Sarah Jane Sandy
Sarah Jane Sandy is a certified nutrition therapist and a fertility and women's health expert. She has helped hundreds of women increase their fertility naturally and go on to have healthy, full-term pregnancies. Learn more about her own fertility journey
here
. To send Sarah a message, complete her
Contact Form
.
Source: Boulder SEO Marketing
---
0 Comments